Home
Swipe Emails
Create Affiliate Link
What's the Secret to making money as an affiliate?
Optional 100% Front End Commissions
We now offer 100% commissions for all front end sales to those affilates that can generate 10 sales per month.
If that's you then contact us at rhcontentmanager@gmail.com and we'll whitelist you at this new higher rate.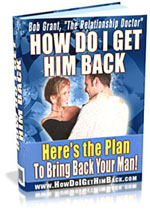 Because of this we pride ourselves on having one of the lowest return rates on clickbank.com. In addition, "How Do I Get Him Back," also comes with a bonus Free 15-minute coaching session with Bob Grant, P.L.C.
All you need to do is sign up for an affiliate account with clickbank.com and then send your traffic to our sales page. We'll take care of the rest.
Here's what Jeff Radich, of Marriage Sherpa sent me after he started promoting How Do I Get Him Back.
"As founder of MarriageSherpa.com we have a very high standard. His programs are designed to help couples WIN the relationship game and his marketing is designed to convert. For example, I do well over $1 EPC when I send his programs to our newsletter list… in fact we did over $1.42 EPC for his program How Do I Get Him Back. You'll never go wrong promoting Bob Grant's programs."
Jeff Radich, Founder, MarriageSherpa.com
So the question is not "can you make money with this". It's simply a question of how do I begin...
To your success,

Bob Grant, P.L.C. Author of "How Do I Get Him Back"
Phone 1-888-700-4921
Email rhcontentmanager@gmail.com