Home
Swipe Emails
Income Potential
Marketing Kit
Create Affiliate Link
Join Our Affiliate Program
and Make MONEY
Want to know the secret to making money as an affiliate?
Promote quality products.
You can sell sell thousands of products but if the customer decides they didn't get a fair value for what they paid, they'll return it and you've made nothing.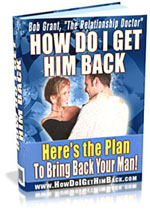 Because of this we pride ourselves on having one of the lowest return rates on clickbank.com. In addition, "How Do I Get Him Back," also comes with a bonus Free 15-minute coaching session with Bob Grant, P.L.C.
All you need to do is sign up for an affiliate account with clickbank.com and then send your traffic to our sales page. We'll take care of the rest.
With each sale, you'll earn 75% on each $47 order you refer. How much can you earn? Well our top affiliate consistently earns over $12,000 per month simply by sending traffic to our sales page.
Here's what Jeff Radich, of Marriage Sherpa sent me after he started promoting How Do I Get Him Back.
"As founder of MarriageSherpa.com we have a very high standard. It's very difficult to find joint venture partners who have good marketing plus a REAL expert authoring the program. I've had the chance to work closely with Bob and I've spoken to him several times. His programs are designed to help couples WIN the relationship game and his marketing is designed to convert. For example, I do well over $1 EPC when I send his programs to our newsletter list… in fact we did over $1.42 EPC for his program How Do I Get Him Back.
You'll never go wrong promoting Bob Grant's programs."
Jeff Radich, Founder, MarriageSherpa.com
So the question is not "can you make money with this". It's simply a question of how do I begin...
To your success,

Bob Grant, P.L.C. Licensed Professional Counselor and Author of "How Do I Get Him Back"
Phone 1-404-579-4437
Email affiliatemanager@relationshipheadquarters.com