YES! You Can Gain Instant Access to the Entire "Get Him Back System" for just $47 - A savings of More than 70% and Your Purchase is Covered by Our 60-Day Money Back Guarantee:
So If You Use Our System and Don't Get Him Back:
Then You Don't Pay.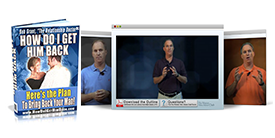 Here's What You Get to Help "Get Him Back" ASAP!
1. Complete "Get Him Back System": After more than 20 years of helping couples reconcile and reconnect stronger and more committed than ever, Bob has developed and refined a proven system that includes all of the tools and Step-by-Step strategies you need to get him back and keep him!
2. Video Tutorials: Available via any media device with Internet Access, these video tutorials are perfect to watch when you have a few spare moments and provide you with hard-hitting strategies that you can put to use IMMEDIATELY! Every video tutorial is designed to help you resolve a specific relationship issue from start-to-finish and you can skip past any lessons that you don't want or need!
3. Women Men Adore Club Trial Membership: The Women Men Adore Club is designed to provide you with the extra tools and support you need to not only get him back, but the added tools and support you need to get through any issues that lie ahead. Your trial membership includes: Weekly Videos with Bob Grant's latest tips and strategies, full access to Member's Forum to meet and discuss relationship issues with other members, and direct access to Bob Grant for specific questions and advice!
You Gain Full Access to Everything—For Just $47!
How Do I Get Him Back System
$47.00
The Women Men Adore Club

(Optional)*

$0.00
*First month free, then $39 per month to save your relationship.


*Note that the bonus free trial to the Women Men Adore Program is completely optional, HOWEVER most of our members will opt for this opportunity as you'll be learning more advanced skills taught by Bob Grant, P.L.C. that until now were only available to his Private Clients.
If I decide to stay on after your Women Men Adore Program free trial, it's only $39 per month until for as long as I decide to keep using the program where I'll automatically get access to weekly videos that contain Bob's latest relationship-boosting techniques, get to ask questions DIRECTLY to Bob as well as be a part of a special community of women in our members only forums where you will learn what makes him want to stay and be
Frequently Asked Questions...
When will I receive "How Do I Get Him Back" System?
You will have access within 5 minutes after your order. First you'll create your account and start watching the first section immediately and download the first chapter. Pretty simple, right?

I am scared of sharing my credit card information with you?
Your transaction will be 100% secure and private. You will be billed by "ClickBank" for your privacy. It's a very reputed company which has been in business for the last 17 years. You can always Google them for more information.

Can I trust your 60 day money back guarantee?
Yes absolutely! In fact, it's guaranteed by clickbank. We're also certifed with the Better Business Bureau and have been for almost 12 years with an A+ rating! So if you want a refund, you can email clickbank and they will process the refund right away. I won't get your credit card information or your personal information. That is all kept completely confidential by clickbank.

How fast will I see results?
It really depends on your unique situation. Remember our goal isn't necessarily to get him back tomorrow (although we've heard that has happened), our goal is to get him back....PERIOD. What's critical is that you follow the plan exactly.

What if I have extra questions?
No problem! Once you complete the program, you'll have access to my video responses to questions women have sent in about their unique situations.
How Do I Get Him Back System
$47.00
The Women Men Adore Club

(Optional)*

$0.00

I authorize Clickbank to charge my credit card the amount of $47.
For Product Support, please contact the vendor HERE.
For Order Support, please contact ClickBank HERE.