Yes! You Can Gain Instant Access to the Entire "Get Him Back System" for just $47 - A savings of More than 70% and Your Purchase is Covered by Our 60-Day Money Back Guarantee

So If You Use Our System and Don't Get Him Back:

Then You Don't Pay.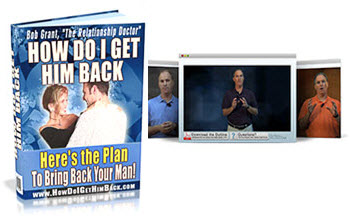 Here's What You Get to Help "Get Him Back" ASAP!
Complete "Get Him Back System": After more than 20 years of helping couples reconcile and reconnect stronger and more committed than ever, Bob has developed and refined a proven system that includes all of the tools and Step-by-Step strategies you need to get him back and keep him!

Video Tutorials: Available via any media device with Internet Access, these video tutorials are perfect to watch when you have a few spare moments and provide you with hard-hitting strategies that you can put to use IMMEDIATELY! Every video tutorial is designed to help you resolve a specific relationship issue from start-to-finish and you can skip past any lessons that you don't want or need!

Women Men Adore Club Trial Membership: The Women Men Adore Club is designed to provide you with the extra tools and support you need to not only get him back, but the added tools and support you need to get through any issues that lie ahead. Your trial membership includes: Weekly Videos with Bob Grant's latest tips and strategies, full access to Member's Forum to meet and discuss relationship issues with other members, and direct access to Bob Grant for specific questions and advice!
You Gain Full Access to Everything—For Just $47!
How Do I Get Him Back System: $47.00
Video Tutorials: $0.00
The Women Men Adore Club (Optional)* $0.00

Your Payment Information is Secured via Clickbank: To secure your payment information, all of our transactions are processed by Clickbank, one of the world's largest and most secure online payment processing companies.
Buy 100% Risk Free: All of our refunds are also processed through Clickbank which has a Zero Risk 60-day money back guarantee so your refund is processed promptly and without hassle.
A + Rating with BBB and 20 Years of Proven Experience: We have an A+ Rating with the Better Business Bureau for the past 7 years, more than 20 years of relationship counseling experience, and literally 1,000's of success stories to back up our claim that if you use our strategies: They will work for more than 90% of relationships and if they don't for any reason: We'll make sure you get a full refund without delay.
Alpharetta, GA Offices: That's right! We aren't just another "Internet company" randomly selling information about topics we know nothing about. We do indeed have physical offices in Alpharetta, GA where we see and help 100's of real couples every year using the EXACT SAME strategies and techniques you'll find in How to Get Him Back - but at a fraction of the price for just ONE office visit!
Instant Access to Entire System: From the moment you complete your order, you will have FULL access to our entire How to Get Him Back system, video tutorials, and our Women Men Adore features and resources if you opted to keep this free bonus.
What if I have extra questions?
No problem! Once you complete the program, you'll have access to my video responses to questions women have sent in about their unique situations.

*Note that the bonus free trial to the Women Men Adore Program is completely optional, HOWEVER most of our members will opt for thisopportunity as you'll be learning more advanced skills taught by Bob Grant, P.L.C. that until now were only available to his Private Clients.
If I decide to stay on after your Women Men Adore Program free trial, it's only $39 per month until for as long as I decide to keep using the program where I'll automatically get access to weekly videos that contain Bob's latest relationship-boosting techniques, get to ask questions DIRECTLY to Bob as well as be a part of a special community of women in our members only forums where you will learn what makes him want to stay and be devoted to you FOREVER!